Books I Finished in June:
Taproot
by Keezy Young
My Boyfriend's Husband Vol 1
by Gengoroh Tagame
My Boyfriend's Husband Vol 2
by Gengoroh Tagame
Lies My Girlfriend Told Me
by Julie Anne Peters
Some Girls Bind
by Rory James
Him
by Sarina Bowen and Elle Kennedy
Being Jazz
by Jazz Jennings
StoryCorps: Outloud
by Ari Shapiro
When Tony Met Adam
by Suzanne Brockman
How to Be a Normal Person
by TJ Klune
The Pants Project
by Cat Clarke
The Best Man
by Richard Peck
The Sidekicks
by Will Kostakis
BearCity 2.5
by Doug Langway, Joe E. Amorin
Books Still In Progress at the End of June:
Adam & Steve
by Craig Chester
Bite Me
by Beth Bolden
Luna
by Julie Anne Peters
Baker Thief
by Claudie Arseneault
Of Fire and Stars
by Audrey Coulthurst
Comfort and Joy
by Jim Grimsley
Odd One Out
by Nic Stone
I read a whole lot of books with LGBTQ+ characters and themes this past June. I had such a fun time reading so many of them, in fact, that I'm continuing the theme in July. Also, there were a whole lot I started in June and am still working my way through.


This goes a long way toward my Goodreads Challenge goal for 2019. Usually I set my challenge for 100 books a year. But as I managed 130 last year, I thought I would push myself to 125 right from the start. 12 books in 10 days is maybe the most I've ever read in a short period of time... at least, the most since that summer in my youth when I practically inhaled Sweet Valley High/Sweet Valley University books.

Here's what I ended up finishing:

Feb 12: Duel!: Burr and Hamilton's Deadly War of Words by Dennis Brindell Fradin
Feb 13: Wonder by R.J. Palacio
Feb 14: And Every Morning the Way Home Gets Longer and Longer by Fredrik Backman
Feb 15: Snow and Rose by Emily Winfield Martin
Feb 16: The Wish List by Barbara Ann Kipfer
Feb 17: Goodnight iPad by Ann Droyd also Alice in Wonderland & Jabberwocky both by Jennifer Adams
Feb 18: I Was the Cat by Paul Tobin
Feb 19: Blood Water Paint by Joy McCullough
Feb 20: Elevation by Stephen King
Feb 21: All Washed Up (Husband & Husband Vol 3) by Aaron Ferrara
I've managed to finish a book every day for 10 days straight! This was entirely unexpected and unplanned, but as soon as I realized I was on day 6, I knew I had to try for a full week. And then I was actually able to keep going. I'm not sure I can extend the streak to 11 days, but I think finishing on the nice, round number 10 is entirely satisfying.
Total Number of Books Read:
154 (last year was 105)
Number of Rereads:
5
Reading Challenges Completed:
2017 Pop Sugar Reading Challenge (all 52 prompts)
Pohick Regional Library Summer Reading Bingo (completed maximum of 4 Bingos)
GoodReads Challenge 2017 (more than 100 books read)
Format:
Audio: 56
Digital/Ebook: 3
Paper: 99
Types/Genres:
Autobiography/Biography: 12
Picture Book: 40
Young Adult Fiction: 38
Graphic Novel: 24
Comics: 15
Nonfiction: 15
Juvie Fiction: 14
LGBT: 12
Fiction: 11
Fanfiction: 2
Science Fiction/Fantasy: 5
TV Tie-in: 5
Historical Fiction: 4
Juvie Nonfiction: 3
Play: 3
Poetry: 3
Mystery: 2
Classic: 1
Manga: 1
Romance: 1
(Note: some books count in multiple categories)
Acquired From:
Library: 93
BookCrossing: 15
Permanent collection: 15
Audio downloaded from library: 20
Used book purchase: 5
New book purchase: 4
Audio from library instead of BookCrossing: 2
Online archive: 2
Bookstore: 1
Have I mentioned lately how much I love my library? I'm quite happy with the variety of genres/types this year. There was only one book I abandoned halfway throughand so many I genuinely adored.
List of All Books Read in 2017:
(
click here for list
Collapse
)
I did an AWFUL job at keeping up with book reviews. There are still some from 2015 I have not yet written, and about half a year's worth from 2016. I had strong feelings about many of these books, so there's really no excuse except my own laziness. I did manage to keep track of them all in Goodreads. And I completed THREE reading challenges. So the year wasn't a complete failure on the reading front.
Description:
The Young Adult(YA) genre of literature is always evolving, and today, it's home to some of the most exciting, trope-defying, and diverse storytelling there is. Learn more about writing and reading for young adults(and the young at heart) as we discuss current trends, writing tips, and more.
Moderator:
Lindsay Smith
Panelists:
E. K. Johnston, Jessica Spotswood, Robin Talley, Carrie Ann DiRisio, E. C. Myers.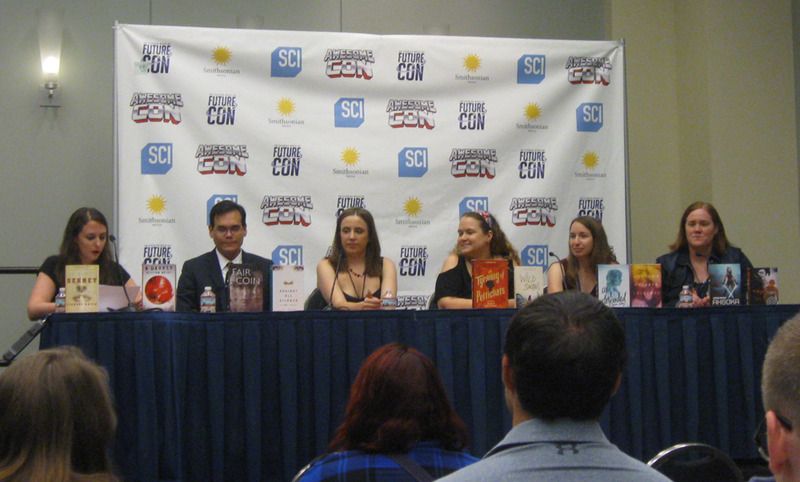 I own several of their books already and want to read all the others now. I took some notes during the panel, but I wanted to start off with recs. The panelists went down the row and gave book recommendations. I tried to keep a list of them all, but surely I forgot a few. So it's not comprehensive!
To read:
If I Was Your Girl
by Meredith Russo
When Dimple Met Rishi
by Sandhya Menon
As I Descended
by Robin Talley
We Are Okay
by Nina LaCour
The Hate U Give
by Angie Thomas
The Art of Starving
by Sam J. Miller
The Seafarer's Kiss
by Julia Ember
Timekeeper
and
Chainbreaker
by Tara Sim
Want
by Cindy Pon
Labrynth Lost
by Zoraida Cordova
I must also restate that I can't wait to read every book by every one of the panelists, even the ones they said they were currently working on that wouldn't be ready for a while! They did a wonderful job of selling us on their books.
To investigate:
Serial Box
https://www.serialbox.com/
Schoolbooks & Sorcery YA Anthology Kickstarter:
https://www.kickstarter.com/projects/198473311/schoolbooks-and-sorcery-ya-anthology?ref=project_tweet
My notes:
YA today involves
-Really interesting characters with really interesting problems
-You can work in any/all genres within YA
-More intersectional feminism
What is it that attracts you to writing YA?
-Feelings of newness & freedom when writing YA
-Teenagers are engaged and fearless now
-Themes of exploring yourself, how you see yourself, how you fit into the world
-We can all relate to being a teen because we
were
one. But even when we're older and roles change, we still wonder "who are we?" and YA taps into that
E.K. Johnston: "I write what I like and people seem to respond to it well."
What can we do to include more marginalized groups' representation?
-Question the defaults/automatic reaction when you start a story and then work to change those defaults (i.e. if you start with a white cis male het character as a default, step back and wonder why you did that and if he needs to be that or if it could work differently)
-Regarding awesome books from creators out there: read the books, buy the books, review and recommend the books
-Listen & learn so you write good representations. Sensitivity reading--PAY someone who is identifying that way to make sure it's okay
-Make sure publishers know there's a market. Tell your library if you see a good display they've done as well
E.K. Johnston on diversity in YA books vs. YA film adaptations: "We're trying and Hollywood is not trying as hard."
Advice to someone writing high school story and worrying about it being too dated:
-Don't include a lot of pop culture specifics
-Technology changes quickly; it's hard to not date your stories with it
-Watch the the CW shows for well-functioning "fictional schools"
I went to a great "YA Literature Today" panel at Awesome Con on Friday.