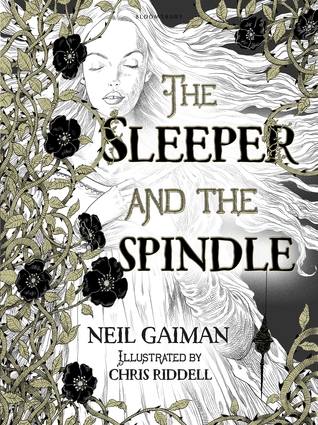 The Sleeper and the Spindle
by Neil Gaiman, Chris Riddell

This is a creative and beautiful spin on fairy tales, which is something I never get tired of. From the cover, I had assumed it would be about Sleeping Beauty. And, don't get me wrong, there's definitely a lot of Sleeping Beauty in this--kingdoms that have fallen asleep under a magic enchantment, a woman who lies in a tower protected by thorns, and a loving kiss that wakes her. But the rescuer is no prince--it's Snow White. Just before her marriage, she sets out with several brave (or not so brave) dwarves to be the brave knight that's needed... and to save her kingdom and others in the process. But that's only part of the twist :-)

I absolutely fell in love with this story, seeing Snow White kick some serious butt as well as being sensitive and caring and observant and rational--everything I love in a heroine, really. Not to mention, she's beautiful. And so are the illustrations in this book. Some pages are filled with illustrations, other have none, and others have small ones running down the sides or at the bottoms of the pages. This book is an elegant work of art from start to finish, that brings this clever adventure to life so richly. Neil Gaiman is a master at storytelling and understands fairy tales so well that the world and its characters are instantly alive. I enjoyed every moment of this story, especially when Snow White runs with the wolves.