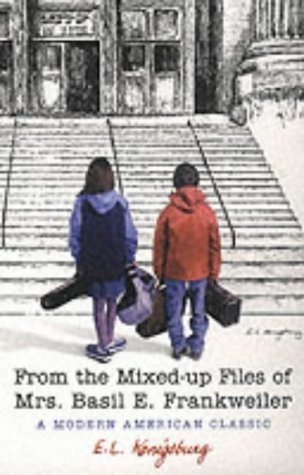 From the Mixed-Up Files of Mrs. Basil E. Frankweiler
by E.L. Konigsburg
(Audio)

I haven't read this book since I was a kid, but it's one I remember loving when I was younger (who wouldn't want to run away and live in a museum? I slept overnight in a museum once with my girl scout troop and it was so much fun!). I also remember loving the movie based off the book. From internet research, I have discovered that everyone seems to hate the movie version I saw. I also discovered that my favorite part of the (apparently terrible) movie isn't in the book at all! This was all a great shock to me, I'll tell you! My childhood was just flipped upside-down! LOL

As for the book this time around, it was a lot of fun. The children were definitely my focus when I was a kid, but now that I'm an adult, I enjoyed things both from Mrs. Frankweiler's perspective and the childrens' as well. And the little twist at the end was quite lovely (something I didn't remember). I loved the careful, detailed planning that went into the successful running away attempt. No one could have pulled it off the way Claudia and her brother, Jamie, did. It was fun to watch them figure things out like how to elude the museum guards, how to pay for meals, and where to sleep at night (thank goodness for comfortable, historic old beds!). All over again, I was wrapped up in the mystery of the Angel sculpture--who created her, really?

I was so happy to find this stood up to the test of time (even if my favorite bit apparently doesn't exist in it). I would happily go on the adventure again with them in the future, too.