I went to a great "YA Literature Today" panel at Awesome Con on Friday.

Description: The Young Adult(YA) genre of literature is always evolving, and today, it's home to some of the most exciting, trope-defying, and diverse storytelling there is. Learn more about writing and reading for young adults(and the young at heart) as we discuss current trends, writing tips, and more.
Moderator: Lindsay Smith
Panelists: E. K. Johnston, Jessica Spotswood, Robin Talley, Carrie Ann DiRisio, E. C. Myers.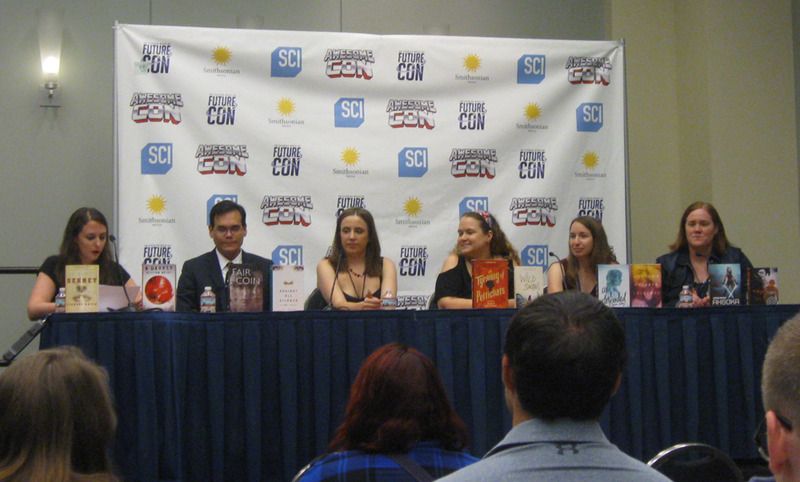 I own several of their books already and want to read all the others now. I took some notes during the panel, but I wanted to start off with recs. The panelists went down the row and gave book recommendations. I tried to keep a list of them all, but surely I forgot a few. So it's not comprehensive!

To read:
If I Was Your Girl by Meredith Russo
When Dimple Met Rishi by Sandhya Menon
As I Descended by Robin Talley
We Are Okay by Nina LaCour
The Hate U Give by Angie Thomas
The Art of Starving by Sam J. Miller
The Seafarer's Kiss by Julia Ember
Timekeeper and Chainbreaker by Tara Sim
Want by Cindy Pon
Labrynth Lost by Zoraida Cordova

I must also restate that I can't wait to read every book by every one of the panelists, even the ones they said they were currently working on that wouldn't be ready for a while! They did a wonderful job of selling us on their books.

To investigate:
Serial Box https://www.serialbox.com/
Schoolbooks & Sorcery YA Anthology Kickstarter: https://www.kickstarter.com/projects/198473311/schoolbooks-and-sorcery-ya-anthology?ref=project_tweet

My notes:
YA today involves
-Really interesting characters with really interesting problems
-You can work in any/all genres within YA
-More intersectional feminism

What is it that attracts you to writing YA?
-Feelings of newness & freedom when writing YA
-Teenagers are engaged and fearless now
-Themes of exploring yourself, how you see yourself, how you fit into the world
-We can all relate to being a teen because we were one. But even when we're older and roles change, we still wonder "who are we?" and YA taps into that

E.K. Johnston: "I write what I like and people seem to respond to it well."

What can we do to include more marginalized groups' representation?
-Question the defaults/automatic reaction when you start a story and then work to change those defaults (i.e. if you start with a white cis male het character as a default, step back and wonder why you did that and if he needs to be that or if it could work differently)
-Regarding awesome books from creators out there: read the books, buy the books, review and recommend the books
-Listen & learn so you write good representations. Sensitivity reading--PAY someone who is identifying that way to make sure it's okay
-Make sure publishers know there's a market. Tell your library if you see a good display they've done as well

E.K. Johnston on diversity in YA books vs. YA film adaptations: "We're trying and Hollywood is not trying as hard."

Advice to someone writing high school story and worrying about it being too dated:
-Don't include a lot of pop culture specifics
-Technology changes quickly; it's hard to not date your stories with it
-Watch the the CW shows for well-functioning "fictional schools"